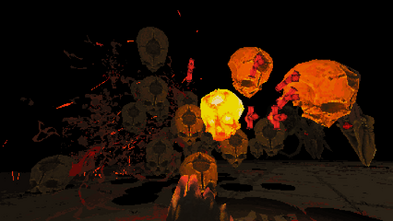 SKULLs are a very common enemy type seen in Devil Daggers. They spawn in waves from SQUIDs. All SKULLs will actively follow the player, except for SKULL II. Since there are usually a large number of SKULLs in the arena, it is very important to learn how to kill a group of SKULL I effectively. All SKULLs move by floating through the air with varying speeds depending on their level, however, if they change direction they will lose a great amount of speed. This behavior makes it important to keep moving in circles around the arena. SKULL III and IV are by far the most dangerous enemies in the game, besides the Boss (the LEVIATHAN). This makes their kill priority very high.
When the LEVIATHAN sends a beam, all non-possessed SKULLs will immediately float towards the Boss. When finally reached LEVIATHAN, they go through its body and change into possessed SKULLs. This will change the sounds they produce, make them appear black, and greatly increase their HP.
Every SQUID will spawn a wave of SKULLs a few moments after it first appears, and spawn another wave every 20 seconds or so. Each wave always contains ten SKULL I, and one SKULL II, SKULL III, or SKULL IV, depending on the level of SQUID.
SKULL I is the most common enemy in the game by far, spawning in a swarm from the SQUID. They are presented as a jawless, flying, human cranium, with a strange marking akin to a filled out crosshair deeply etched into its forehead. It also appears that where the neck would usually attach to the base of the skull has been violently smashed, as if it was ripped from someone's body with great force. It follows the player loosely, making wide turns when avoided rather than ferociously following the player's exact movements. It can be avoided easily, and are almost harmless if the player is constantly moving and turning.
When a SKULL I swarm is spawned, they are always accompanied by a single skull of a higher level, depending on the SQUID that spawned them. If they are spawned from a SQUID I, they will be accompanied by a SKULL II, which will immediately start circling around the center of the arena, waiting to flank the player. If they're spawned from a SQUID II, they are joined by a SKULL III, which will (unlike normal skulls) stalk the player relentlessly at a much faster pace. If they are spawned by a SQUID III, A SKULL IV is spawned; the fastest, largest and strongest SKULL in the game.
-
-
-
-
SKULL II
Edit
SKULL II is an enemy that spawns from SQUID I along with ten SKULL I. Unlike SKULL I, SKULL II does not follow the player. It instead floats around the arena, and does not seem to be heavily influenced by the players position. This meandering movement pattern usually results in SKULL II flanking the player and cutting them off, hitting them from behind unexpectedly. Along with SKULL III, it is the only enemy that drops a gem that is not visible on its body before it is killed.
Generally, SKULL II is not an instant threat. However, the fact that SKULL II does not follow the player makes it difficult to keep track of how many are in the arena at once, making an uncontrolled number of SKULL II a formidable issue.
-
-
-
-
-
SKULL III
Edit
SKULL III is an enemy spawned from a SQUID II along with 10 SKULL I. Once spawned, they quickly rush the player. SKULL III is one of the most aggressive enemies in Devil Daggers. They can move very fast and can make much sharper turns than SKULL I, making them a very immediate threat. A single SKULL III can seem overwhelming when the player is focused on other enemies, therefore they have a high kill priority.
SKULL III can be easily identified by their distinct laughing sound, so keep your ears open for them. Killing all SQUID II relatively quickly is a reasonable strategy to reduce the number of SKULL III that spawn.
-
-
-
-
-
-
-
-
-
SKULL IV
Edit
The biggest, toughest, fastest, and meanest skull, the SKULL IV is certainly a formidable threat. Immediately after spawning from a SQUID III, they begin to relentlessly chase the player with unmatched speed, making a distinctive sound akin to a revving engine. Due to their speed, they have a high kill priority. SKULL IVs refuse to pay you for your efforts and will not drop a gem upon death.